17 Jun

United Way Board hires Drummond as President, CEO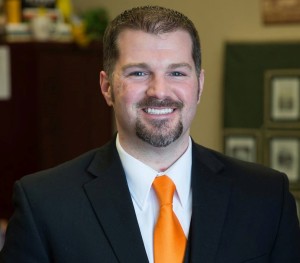 June 13, 2016
The United Way Board of Directors has announced the hiring of Dr. Adam Drummond as the new President and CEO of the United Way of Huntington County. Following a nationwide search, the CEO selection committee, consisting of board and community members, made the recommendation to the board which ratified the movement on June 7th. Drummond will officially transition from Interim Director to CEO on July 11th.
"The United Way has served the Huntington community for 60 years now", said Todd Latta, Board President. "The Board and (former Executive Director) Jenna Strick began the strategic planning process in 2015 by listening to the community's aspirations for our county, and we are confident that Adam is the right person to continue moving this organization forward. And when the United Way moves forward as an organization, our entire community grows stronger. Adam has the education and experience to do the job well, and a true passion for the residents of Huntington County. He understands the needs of our community, and we are confident that he will provide the leadership to drive the board, staff, and volunteers to make Huntington County THE place to sink your roots".
Dr. Drummond is a lifelong member of Huntington County, and is married to Tiffanney Drummond, who serves as the Career and Technical Education Director at HNHS. Tiffanney and Adam have three children: Chase, Carson, and Carter. Adam previously served as principal of Lincoln Elementary for eight years. He serves as a Professional Faculty member of the National Association of Elementary School Principals. Volunteerism includes 11U coordinator for Huntington County Baseball, member of the LaFontaine Arts Council, and community representative with the Title I Family Advisory Committee. Adam serves as an adjunct professor at Huntington University, and is involved with the Ball State University Alumni Council. He earned his Doctorate in Education in 2014 from Ball State University.
"The United Way of Huntington County has a strong history of excellence in building partnerships in the community over the last 60 years" Drummond replied. "I am honored to transition into this position as my passion for Huntington is homegrown, and the ability to foster our education, work force, and healthy living is an exciting opportunity. I look forward to working to enhance the quality of life for all in Huntington County!"
For more information about the United Way and their work to make the community stronger, please visit www.huntingtonunitedway.org.