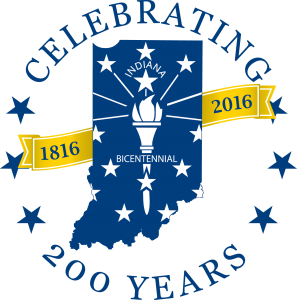 17 Aug

Public Art Honors Indiana's Bicentennial

By: Ann K. Siegfried

The year 2016 is an exciting one for everyone across the Hoosier state as we celebrate Indiana's Bicentennial.  One way that Huntington County is recognizing this important event is through public art.

United Way agencies across the state were given the opportunity to purchase and then paint a fiberglass bison.  The United Way of Huntington County used the six-feet long, five-feet high structure that fits through a doorway as a canvas to emphasize three areas of local history:  the Miami culture, the canals, and the railroads.  Three local artists painted the bison and named it Keekiiyosia, which means "traveler."

The La Fontaine Arts Council sponsored the annual fire hydrant public art project, which this year has the theme "Celebrating 200 Years of Indiana History."   Local and area artists chose faces, places, or spaces that have significance in Hoosier history and depicted them on twenty-seven hydrants.

All third-grade students in the county began working on a special project this past spring.  As fourth graders, they will attend the local Bicentennial Celebration on September 30, the day the Bicentennial Torch Relay comes through Huntington County, and reveal their "We Had a Hand in the Bicentennial" project.

These public art projects provide enrichment, education, and entertainment for everyone who views them.  The bison will travel to many venues throughout the county before retiring to its permanent home at The Forks of the Wabash.  The hydrants, located in the downtown Huntington area, will be on display for the next year.  Maps showing the specific locations can be found on the LAC Facebook page.  The artwork made by the students will be housed at each elementary school later in the fall.

We in Huntington County are fortunate to have the support of the United Way, the La Fontaine Arts Council, and the Huntington County Community School Corporation as we revere the past, honor the present, and anticipate the future of Indiana through these public art projects.