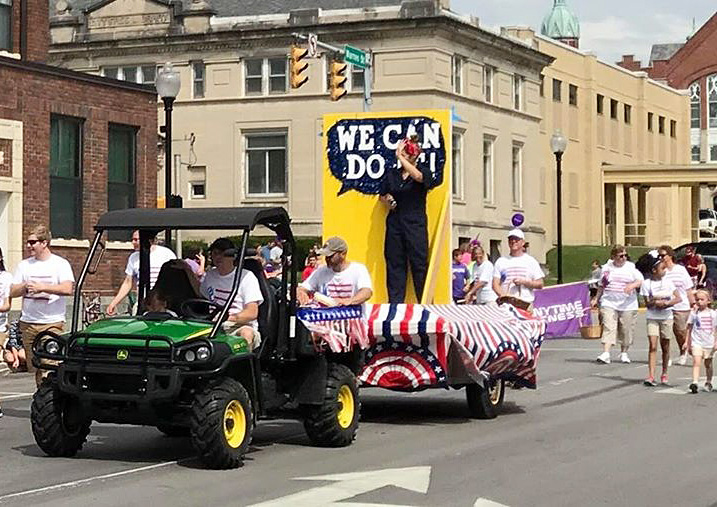 29 Jun

LET'S 'BUY-IN' TO HUNTINGTON COUNTY!

Recently, I had the opportunity to be one of the "Co-Emcees" for the 2017 Huntington Heritage Days Parade (shout out to Liz Adams, HNHS Campus Life Director, and Chant Thompson, Executive Director of NACCAP, for the awesome opportunity!). I did my best to loudly acknowledge my friends and colleagues who walked or drove by the in the parade. Every other year, I've either watched the parade from the sidewalk or participated in the parade itself (as an aside, last year I got to pull around Keekiiyosia, our "Bison-tennial," in the United Way entry!).

This year, I had a very different perspective of the parade. It was my job to recognize out loud so many of our City's businesses, organizations, and individuals. Having moved here from a much larger community in 2008, I am constantly blown away by the "buy-in" the residents of this county have for what they have and what they do. Ever since I stepped foot in this community, I knew I wanted to be a part of that buy-in, both in my occupation and in my personal life. I've had that chance through working at Pathfinder Services, Huntington University, Love in the Name of Christ, and now at the United Way of Huntington County. I am sincerely humbled at the chance I have now to be a part of the process of improving the lives of those who live here, just as mine has been in the past 9 years.

In my first 2 weeks on the job as President & CEO, I've already met with and interacted with so many people who show that "buy-in; whether it's Megan Reckelhoff and her work to improve this community through JJ's and Rotary, Steve Kimmel and his endless pursuit for excellence in our local businesses at the Chamber, Pat and Sara Karst and their beautiful rural farmland and comparable beautiful spirits that pull them toward cultivating the lives of youth in our community, or Jerry Reid and his commitment to not only excellent products, but happy and productive employees at CSP. And these are just a few… I could go on and on about the quality of individuals we have in the Huntington Community (and I probably will from time to time!). My hope and my prayer for my work at United Way is to tap into that excellence to make this community a place where people want to be, while also listening to the stories of those who call this place home and what their hopes and dreams are for the future of Huntington County. So if I tap you on the shoulder, it's because we're hoping you'll join us!

My office is always open to you (though, if I can help it, I'll move our meeting to one of the MANY places in this town to get some great coffee or soda). I want to hear your ideas, and I want to work with you to make this community more UNITED than it ever has been before. So come, sit and talk with me. I'm looking forward to it!